Glass-Lined Reactor Model Comparison
adminmp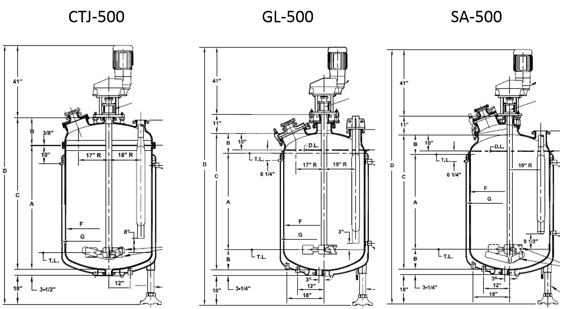 If you are new to glass-lined steel equipment, it can be intimidating when it comes time to determine the specifications of the vessel.   Especially when filling out our Reactor Specification Form, you might find yourself with more "don't know" and "not sure" responses than actual specs…and that's okay.  Our team of experts can help to identify what is the best type of reactor to suit your needs (that's what we're here for, after all).  But if you're like me, you want to be an educated consumer and make some informed decisions on your own or at least have a basic understanding of what you need and why.
Even if you are well versed in glass-lined equipment, you still may not be sure about the fundamental differences between reactor models, baffle designs, agitator blades, and so on.  For those reasons, we've developed this post to help distinguish the differences between the three main types of vessel designs.  A simple comparison like this is handy if you are looking for a vessel and aren't sure what model to choose.  In this article, we will refer to the different models by DDPS-branded terms; however, other glass-lined manufacturers may have comparable designs.
How to Select a Reactor Model for your Process
If you are in need of a new reactor for an existing process, chances are you'll go with the same design that is currently employed in your operation.  If equipment is needed for a new process, there are two initial questions you'll want to ask yourself:
What is the volume of product per batch? (Note: all reactor sizes are labeled according to working capacity not total volume, so a 300 gallon vessel can process a maximum of 300 gallons of product per batch)
What are the temperature and pressure ranges you will be operating under?
By answering these two simple questions you will already be able to eliminate some designs.  Once you have narrowed it down from there, you can identify more specific objectives, such as:
How concerned are you with cleaning between batches and overall cleanability?
How many nozzles do you require for installation of ancillary equipment/instrumentation?
Based on the answers to these fundamental questions, you can begin to narrow down your options.