Description
A heat exchanger is a device used to transfer heat between two or more fluids. In other words, heat exchangers are used in both cooling and heating processes. The fluids may be separated by a solid wall to prevent mixing or they may be in direct contact. They are widely used in space heating, refrigeration, air conditioning, power stations, chemical plants, petrochemical plants, petroleum refineries, natural-gas processing, and sewage treatment.
TECHNICAL INFORMATION
Graphite is characterized by its high level of corrosion resistance and its thermal conductivity is much greater than most comparable corrosion resistant materials.
Manufacturing process, of graphite raw material, requires a lot of energy during compression, baking and graphitization. A very long process which can take several months.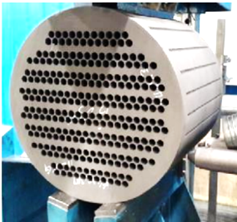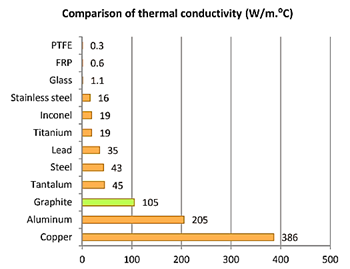 Impregnation of graphite will give imperviousness property. We use proprietary resin and latest technology which shorten production lead time. Three grades of impregnated graphite, using two different resin types to cover steel industry applications.
We are the second company in the world able to supply "real" PTFE impregnated graphite.
Our GT-FLON show extraordinary corrosion properties outclassing traditional phenolic resin impregnated graphite.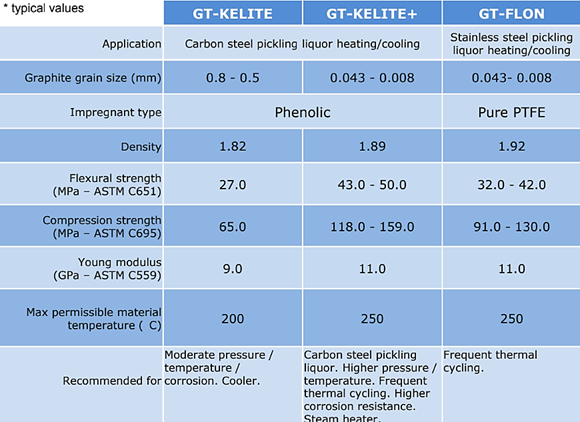 Main applications = Cooler, Condenser, Evaporator, Heater
Silicon carbide Hexoloy® SE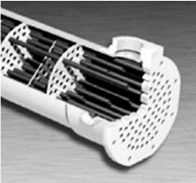 Main properties are
Extreme hardness
High strength
Virtual universal corrosion resistance
High temperature stability
High thermal conductivity
High thermal shock resistance
FDA approval
Graphite Block Heat Exchangers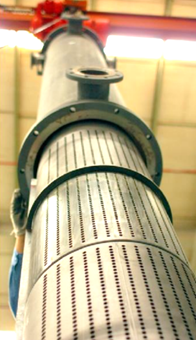 Advantages of our blocks type equipment
Compactness
Modular construction
Fast assembly / disassembly
Standardize d spare parts.
Possibility to use corrosive media on both side with a protective coating/lining on shell side.
Outstanding corrosion resistance.
SHOCK PROTECT® design of blocks against water / steam hammering
STABLE LOAD® design of compression spring against stress fatigue
Graphite Tubes Heat Exchangers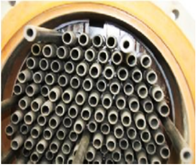 Advantages of our graphite tubes type equipment
Big heat transfer area available.
High process/service section for big flow (9,000 m3/h).
Gaskets limited at tubesheet location.
Outstanding corrosion resistance.
STABLE LOAD® design of compression spring againststress fatigue.
Erosion reinforcement as an option.
Tubes are available with carbon fiber reinforcement for application with high vibrations and mechanical stress.
Gasketed baffle on service side for cooler.