Greeting from TongYang Industry!
TongYang Industry Korea (TYI Kr) was successfully established in 2002, in order to supply the State of Art Technology to the Korean chemical market.
In 2017, TYI Kr opened a new branch in Vietnam to expand the manufacturing facility and easier to supply our products to ASEAN and Middle East market.
No1. TOTAL SOLUTION FOR CHEMICAL AND PROCESS INDUSTRY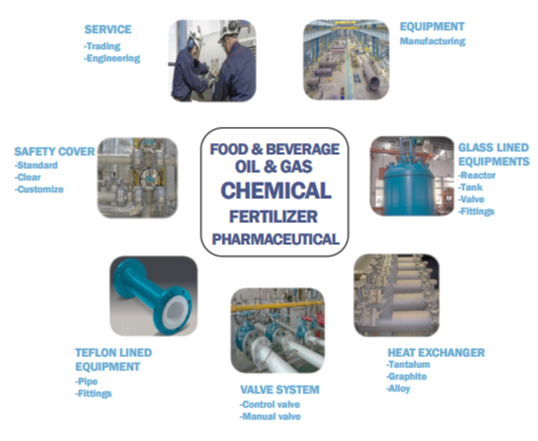 For the business aspect, we are the manufactor of Safety Cover, our main item in Vietnam. Morover, we can supply to you the best service with Global Standard from Europe and Korea
With many years of experience of working oversea, cooperation with the Pfaudler Group, we are proudly to make sure that Quality is our best value.
Engineering System

Anti-corrosion Equipment

Safety Cover

Control Valve
Tong Yang industry is always doing our best efforts in order to protect global environment through our best technology and products in chemical industry.
Our Role
We are supplying a various goods made of high corrosion resistance material in the chemical and other industry.Our organization is consisting of 4 parts such as engineering, equipment, environmental products and international offer.
Our Mission
Our aim is to provide a best quality and service that client have more reliability on our activities throughour long term experience on design, installation and maintenance.
Our Future
All members in Tong Yang industry are united in rooting for keeping pace with cutting edge technology of 21st century and industrial development in oder to spread through the world.For growing with our customers, we will guarantee you that every product TYIND always supplying will have the best service and the most quality product.